Footfall Lighting's Continulux® LED light is a unique British made continuous handrail light solution. This fully IP67 rated LED module is suitable for the harshest external condition. Its seamless fit into the slotted handrail gives maximum comfort and vandal resistance. Our lens is injection moulded poly-carbonate, UV stabilised, IK10 rated and able to withstand high temperature.
We are able to manufacture the lens in a variety of colours to suit a particular application in addition to the built-in RGB colour options of the LED board. The back to back interconnected modules give a continuous light stream interrupted only by our support bracket stem designed specifically for this system and its wiring.  Its antimicrobial properties make it ideal for public areas.
We have now launched our new updated Continulux module 5W – 150 Lux with a dedicated row of LED's for emergency use, operating at 0.3Watt and providing up to 10 Lux for 3 hours.
Moulded diffused lens: Antimicrobial
Back to back interconnecting modules
Continuous uninterrupted light
Dedicated row of LED's for emergency option
Asymmetric or Symmetric light flow
Multi coloured lens option
Dimmable or non dimmable
Vandal resistant
Simple to install and maintain
Bespoke fully conforming Handrail Bracket
10 LUX up to 150 LUX @ FFL
For use in standard slotted handrail
42.4mm Diam : 300mm x 24mm x 24mm modules
48.3mm Diam : 300mm x 27mm x 30mm modules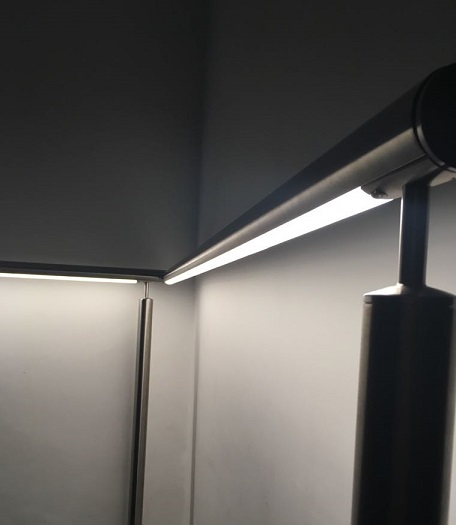 Click "BS EN" buttons to view certificate details: