Footfall Lighting offer a wide range of integrated LED luminaire solutions for handrails.
The luminaires within the handrail are tested by the UK's leading UKAS accredited laboratory to ensure that the integrated products conform to all relevant British and International Standards.
The company specialises in the design and manufacture of a range of handrail LED ' fit and forget ' lights. High pressure polycarbonate injection moulding, LED / PCB board design and assembly with the manufacture of bespoke stainless steel handrails and assemblies all at our modern, well equipped UKAS ISO 9001-2015 approved Somerset facility.
Specialist Polyester Powder Coating warm to touch coatings to ensure comfort and safety as well as matching architectural facades and landscaping.
Emergency Lighting DALI dimming, RGB colour are amongst a range of control options that are available to our clients.
All UK manufactured for complete traceability.
We install and commission our LED handrails and with handover our clients receive the detailed manufacturing drawings, structural calculations where applicable, full life and performance warranties and 24 / 7 technical service and support.
Great British Manufacturing at its BEST!
The Modula Range of LED modules are available for 48mm stainless steel or powder coated warm to touch handrails. Asymmetric / Symmetric with option of  3 hour Emergency Lighting feature.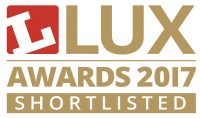 Our perfectly designed continuous handrail lighting solution meets all the critical light and test requirements and as a result we were shortlisted for the LUX AWARD 2017!