Britton Street
In the Kurt Geiger's lustrous London headquarters, a combination of precision engineering and elegant design experience created a sophisticated staircase, bridge, and balustrade system. This mirrored the renowned stylish image of this high-end fashion retailer.
The challenge on this project was to unite either side of the building's atrium with a feature staircase rooting itself on the ground floor. To do this there were two identical helical staircases designed which continuously rotated its way through the first 3 floors of the building. These stairs were then linked by two structural glass-floored landings which spanned the width of the atrium. An elegant structural glass balustrade with uninterrupted capping and fascias was introduced to connect these walkways to the remaining expanse of the atrium balconies.
The helical staircases introduced multiple challenges. The aim was to create a homogeneous steel staircase which extruded itself round its vertical axis through the atrium. To create this result both stairs were built entirely off site where our fabricators continuously welded both sides of all treads to 6mm thick curved steel balustrades which in turn were also continuously welded to our profiled handrail.
Each 4 Tonne staircase now presented additional complexities when introduced to site. Their impressive size and weight prevented access through the usual entrance to site. The stairs had to be craned through the roof to connect exactly to their fixing locations on the waiting glass walkways. Structural calculations for the stair were made ensuring the balustrade, stringer and treads met anticipated loading's including the critical connections of the stair and glass walkways to the main structure.
Mechanical calculations were also thoroughly adhered to, even to the point of ensuring no deformation occurred during the hoisting due to the elasticity of the steel. The smallest deformity would have resulted in the stairs not lining up with the glass landings.
LED lights were fixed to the cavity above the handrail to complete the dramatic visual impact of these perfectly finished helical staircases. Due to the success of this installation we were invited by the same contractor to design and install 4 very different yet equally impressive feature staircases at 40 Strand, London.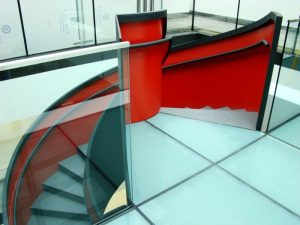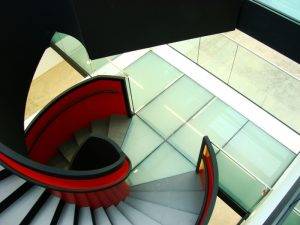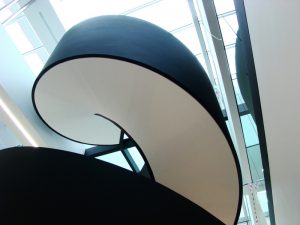 Britton Street, Kurt Geiger's London headquarters
Type:
Sophisticated staircase, bridge, and balustrade system
Client:
Contractor: Chorus Group Architect: Archers