Limehouse Station
Limehouse Station is a Victorian structure being constantly improved by its rail operator C2C. The main staircase from ticket office to platform was poorly illuminated and Footfall Lighting were asked to remedy this by the fitting of a LED handrail to the existing steel structure with minimum passenger interference.
A perfect measure, SolidWorks CAD and Photometric lighting simulation ensured our client knew exactly the visual impact the new LED handrail would achieve.
The warm to touch double rail with its bespoke supports incorporates our F48 Modula system with its unique self testing Emergency LED display on each board.
The client received a detailed O and M Manual with all independent test results, material trace-ability of every component and all testing, maintenance and service requirements backed by our shop floor manufacturing drawings.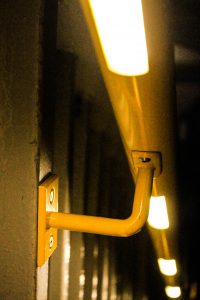 Limehouse Station, London, UK
Type:
LED handrails with Emergency LED display
Client:
Contractor: Rail operator C2C