Marlborough Fine Art
Marlborough Fine Art is a world renowned gallery.
The commissioned project was to design, manufacture and install magnificent steel and timber clad feature staircase to access the galleries and offices over seven floors.
The stair and joinery manufacture was carefully followed by the client to ensure the perfect matching of veneers along with the quality of the visible steel elements and bespoke light fittings. This work entailed designing, forming and assembling an entirely bespoke, polished stainless steel housing to incorporate LED light modules.
These lights throw an even wash across the veneered oak treads, landings and extended ramps to the galleries. All cabling and drivers were built into the stair structure ensuring perfect finish. For the down lights at the underside of each landing, the 6mm steel was laser cut to accommodate the light profile.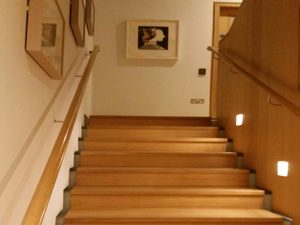 Marlborough Fine Art, London
Type:
Design, manufacture and install steel and timber clad feature staircase along with LED handrails and lighting.
Client:
Contractor: Metamont Ltd / Architect: Long & Kentish