Snowhill – Phase 2
The stainless steel handrail with posts and subtle curves add an interesting dynamic to a very functional rail. The handrail illuminates the steps of the market place assisting safe walking both day and night.
The handrails, in grade 316 stainless steel, are polished to a 320 grit finish with curved bends at the start and finish to avoid trapping of garments.  The Modula luminaries are IP65, IK10 and EMC safety tested, and vandal resistant.
The LED modules are produced in our factory in Somerset adjacent to our fabrication units where the handrails are manufactured using the latest CNC milling and tube manipulating machines.  Full trace-ability and quality control is guaranteed.
Photography courtesy of: www.jjsphotographyuk.com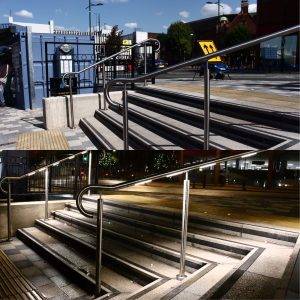 Marketplace, Phase 2 Snowhill
Type:
Stainless Steel handrail system with fully IP rated integrated LED lighting
Client:
Contractor: Speller Metcalfe Ltd