Twin Sails Bridge
Twin Sails Bridge, Poole is a 2012 success story for pioneering LED Lighting Systems. The brief was to design, manufacture and install a stainless steel balustrade system with intelligent DMX controlled and fully IP rated integrated LED lighting.
The Twin Sails Bridge was the first bridge of its type to be built and was chosen to symbolise the aspirations of the town of Poole and its maritime heritage. This is reflected in the world class design with its two triangular shaped lifting leaves symbolising the sails of a yacht.
The balustrade system is manufactured from 316L marine grade stainless steel and comprises profiled twin flat uprights, Ø6mm wire rope infill and a Ø60.3mm stainless steel handrail which incorporates the bespoke LED lighting system which is a DMX controlled, fully IP rated system tailored specifically to suit the local environment.
Incorporating RGB LEDs, the lighting has been programmed to sequentially change colour to suit the movement of the lifting spans. It was a world class project and magnificent testimony to British Engineering. The Twin Sails Bridge has been recognised at the 2012 LUX awards by receiving a commendation for Architectural Lighting Project of the Year.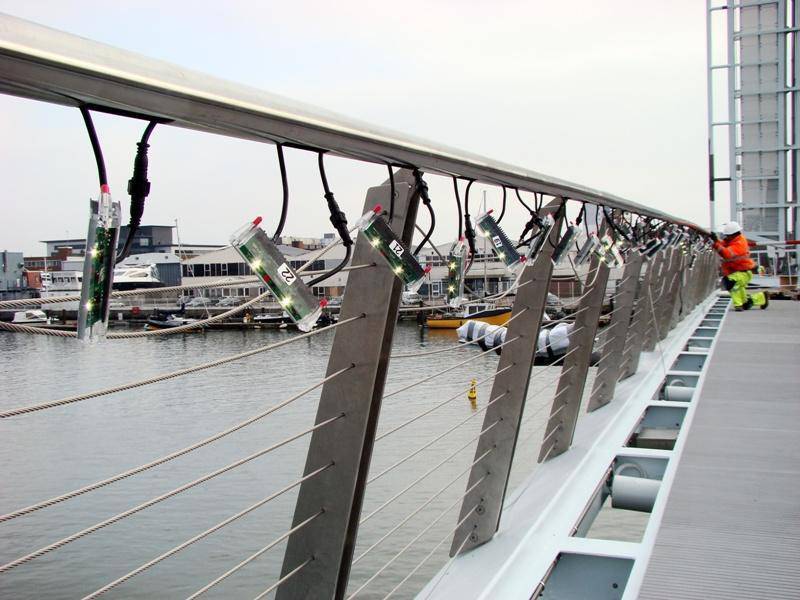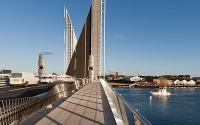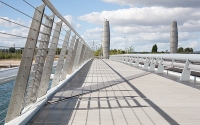 Twin Sails Bridge, Poole, Dorset, UK
Type:
Stainless Steel balustrade system with intelligent DMX controlled and fully IP rated integrated LED lighting
Client:
Contractor: HOCHTIEF (UK) Construction, Architect: Ramboll UK