Westferry Circus
Beside supplying the LED Handrail we also designed and fitted the glass balustrade which presented a significant challenge to our installation team working at height.
The cantilevered handrail illuminates the terrace flawlessly and gives minimum light pollution for the adjacent building as the light is directed exactly where it is required.
The panoramic view at night is perfectly framed for the buildings occupiers.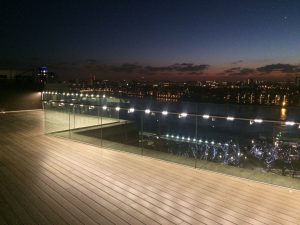 Westferry Circus, London, UK
Type:
LED Handrail with glass balustrade