Our Spot Range of LED handrail lights have contoured injection moulded polycarbonate clear or diffused lens with a stainless steel spring action for a precise, secure location in the rail.
These mini spot lights incorporate Footfall Lighting unique simple and Patented installation technology ensuring a perfect surface fit.
There are a various features and different options to make it available to a wider range of applications.  Symmetric or Asymmetric options of the lens can be used to guide the light symmetry down or direct the light across the walkway or stairs.
24V Constant Voltage: Available in Emergency Option 0.5W or Points of Emphasis 2.0W. IP65.
These spot lights offer a flush exterior to a circular handrail. Precision machining ensures a hair-line joint between the handrail and the unit.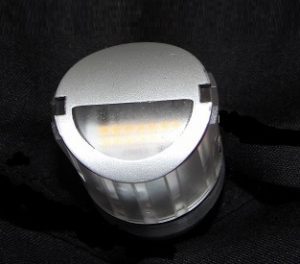 The available option in this current range is the Contoured Surface for installation within a 48.3mm x 2mm diameter rail.
PHOTOMETRIC DATA REPORT AVAILABLE WITH IES & LDT FILES.
Contoured Injection Moulded Polycarbonate
Rated life for LED module of 50,000 hours
Up to 150 LUX at finish floor
24V Constant Voltage
Anti-corrosive
Vandal Resistant
Suitable for standard 48.3mm Diam Handrail
Available in 2700k, 3000k or 4000k
British design and manufactured
Polycarbonate Clear or Diffused Lens
Options for a wide range of applications
Asymmetric or Symmetric light flow
Can be supplied with RGB Lens
Designed for easy install and maintenance
Emergency Option